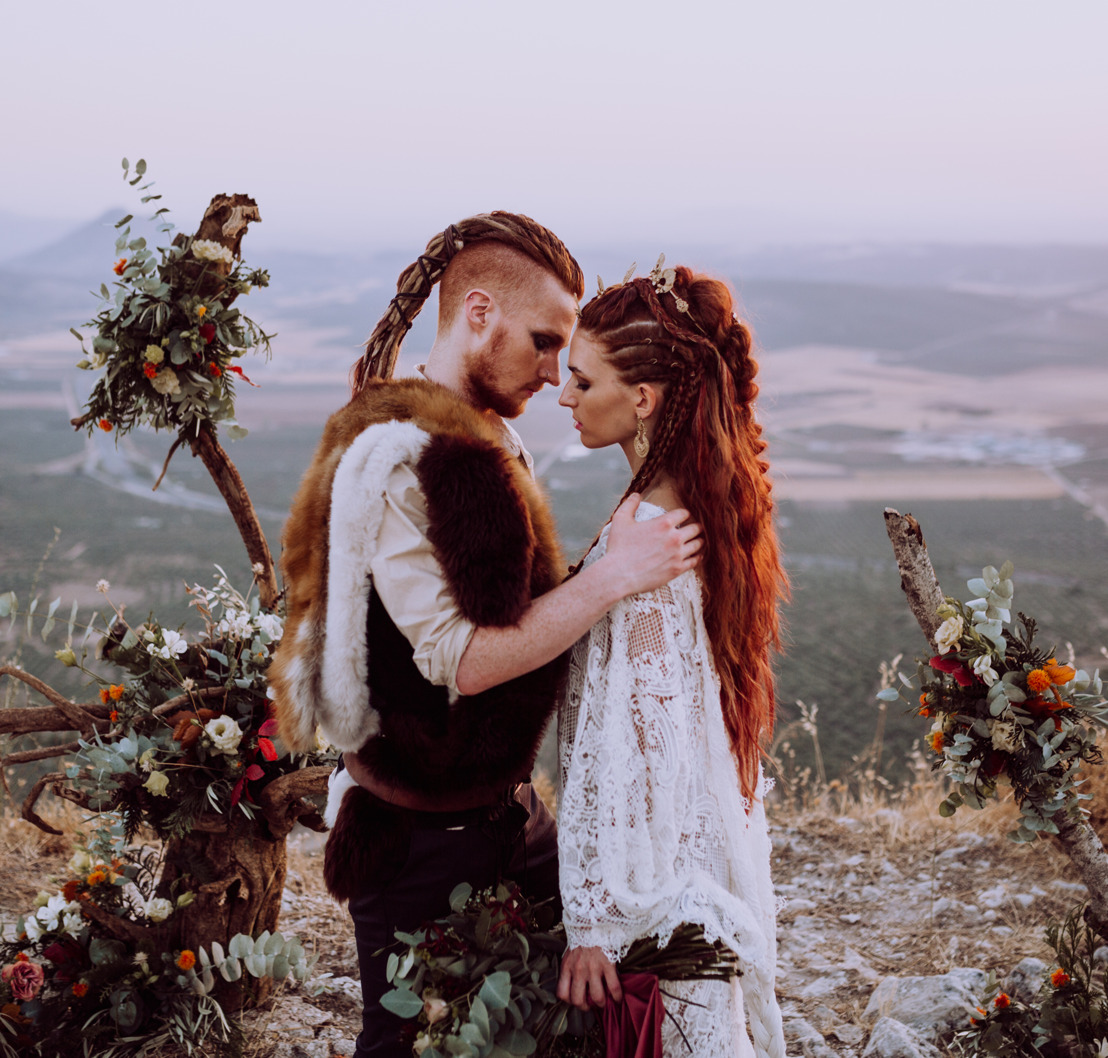 FREYA, VIKING GODDESS Collection by JUANMY MEDIALDEA
Love is born wild, without clothes or shields, dressed only in freedom, a gaseous essence that is perceived, but not caught. That is why Freya and Od fly their story away from the protocols, from the verses written by others, to spontaneously recite their own, those that emerge only when emotion is a burning flame. They have fled to their corner of the world, to the refuge where their love flourishes, in order to declare with promises the singularity of their history.
A celebration that escapes from the prefabricated, to surrender to the authentic, the pure, and that is where their powerful romanticism emerges. And so, the bride and groom immerse themselves in a deep ritual, focused on a love that grows, breathing their loving words, oblivious to everything other than themselves. To unite, to celebrate their bond, they only need each other, with no greater adornment than love, two witnesses and the temple of nature. They have escaped formalities to start a new path that is born free, away from the destiny that others had prepared for them.
The hair is inspired by the energy of the Viking deities, with reddish tones that remind us of the sacred fire. In the bride and groom, the hair symbolizes the loving force, the flame that seals it and makes it durable over time, that is why both wear long hair in copper colors. The bride wears different textures, on the one hand, different types of braids that are sublimated with a jewel headband, a symbol of the divine meaning of a bond. In addition, she clears her face with several French braids adorned with hoops, also present in the headband, a shape that represents infinity. The groom picks up his dreadlocks to show the shaved sides and to give prominence to the faces that look at each other, in a communicating reflection.
Credits:
Hair: Juanmy Medialdea @ Juan Miguel Medialdea Peluqueros
Hair Instagram: @juanmy_medialdea
Photography: Joseph Table Instagram: @josephtablefotografo
Organizer: Enlazados Wedding & Events Instagram: @enlazados_eventos
Dress: Yolancris Instagram: @yolancris
Make up: Albert The Make Up Skull Instagram: @albert.camur
Headpieces: Silvia Peinado Instagram: @silviapeinado
Florist: El Portillo Floristería Instagram: @elportillofloristeria
Furnishing: Más Que Palets Instagram: @masquepalets
Jewelry: Joyería San Eloy Instagram: @joyeriasaneloy
Tailoring: Romera 1958, Lebrel Málaga, Lebrel Antonio Guirado, Instagram: @romera1958 @lebrelmalaga @lebrelantonioguirado
Attrezzo: Casa Pulianas Instagram: @casapulianas
Video: A2C Producciones Instagram: @a2cproducciones.weddings
---
DOWNLOAD AREA:
DROPBOX:
---

Blanca Aranyó PR & Customer Experience, ComunicaHair