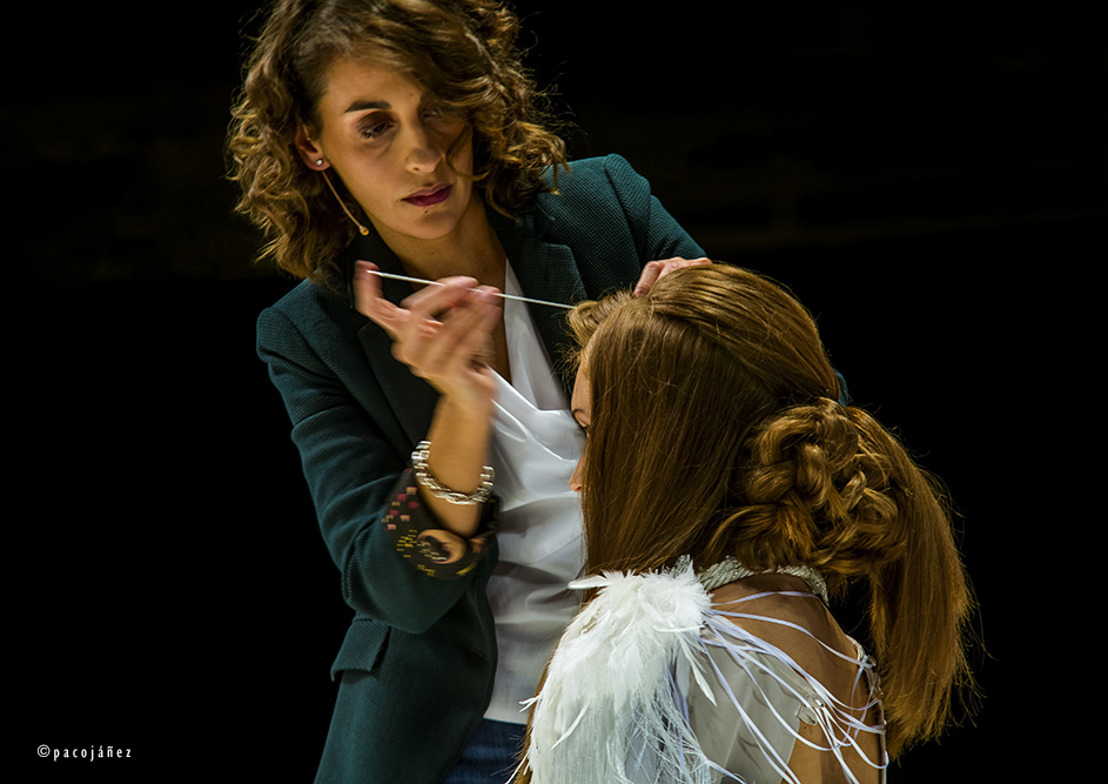 Ziortza Zarauza, originality that moves talent
Ziortza Zarauza belongs to a line of hairdressers who have managed to transmit their passion for the profession, not only from generation to generation but also among those around them.
Her way of working has a unique and personal stamp, but at the same time has a very familiar way of understanding the profession, of being at full stretch. A very generous vision, partly responsible for how Spanish hairdressing has evolved, becoming one of the bests in the world.
You have a long history despite being still young. From everything you've experienced and learned, what are you most proud of?
Wow! What a difficult question to answer. This profession has given me many opportunities and has allowed me to enjoy experiences that I never imagined. Of all of them, it's difficult to choose only one. I experienced the Style Master final in Lisbon, in which I got the "Best Technique Award 2014". There were hundreds of Spanish hairdressers cheering me on. It was incredible! But, if I had to choose, the most exciting memory that, so far, I have engraved in my memory and my heart, is the fashion show at the 2017 Fígaro Awards, where I presented my collection Goddesses of War. When the warriors appeared on the catwalk, I was so nervous that I could hardly look. I did not win that time, but I remember the reaction of the people, their ovation and, above all, their affection that night. I still get excited just thinking about it and it gives me goosebumps.
What projects do you have in mind and which ones are you already working on?
We are in a very difficult year, in which the only project is to "survive" and prepare for when this Covid storm passes and we only remember it as a bad dream.
At Centro Beta we are determined that the training of our students remains at an excellent level, despite the complications that have arisen with the pandemic. Our main objective is that the school continues to be a reference teaching center in the personal image sector.
As a personal project, in autumn I will launch my own brand Ziortza Zarauza Hair Lover as a freelance trainer. I'm so excited! I will have a catalog of courses according to my tastes, but that respond to the training needs of the sector. In general, I will offer specific color, commercial collections and editorial courses on demand.
What an interesting project. What will the format of these new courses be like?
Right now, I am immersed in planning the contents of the first courses that will make up the catalog. I want it to be something easy for me to manage, as I plan to personally take care of all the details. Everything will focus on a new website that I am preparing and in which anyone interested can consult my training offer or propose their needs, so I can prepare a customized course.
You are a trainer. What do you like the most? What aspects do you see in your students that should be reinforced more?
I worked in the salon for many years, and then there was a time when I combined the two facets: as a professional, in the salon, and as a trainer. I loved the latter and I ended up leaving everything else to dedicate myself solely to it.
As a trainer, I work with two very different target audiences. On the one hand, I am a Middle-Grade professional training teacher at Centro Beta, and in these courses, students are very young people, mostly teenagers, full of desire and enthusiasm to know the secrets of hairdressing. I find it very gratifying to accompany them in these first steps, shaping their foundations.
On the other hand, I train professionals, whether in associations or franchises, and also to Montebello clients - which, as you know, is our main brand. These trainings are very different: you are surrounded by colleagues and you interact with them equally. These sessions allow me to meet great professionals and share experiences. Honestly, these are very enriching and enjoyable moments. I really enjoy them! As they say, "he who teaches learns twice."
What are the most frequent concerns of the professionals who train with you?
If you refer to training concerns, I detect a lack of foresight. People do a lot of training just for the sake of it, without evaluating the cost of money and time involved. They continue to invest in training on impulse, and this, in my opinion, is a huge mistake. Each salon, each professional, must reflect on its shortcomings and areas for improvement.
Likewise, I observe in my courses that everyone assumes that hair color or cut must follow organizational, structure and methodology guidelines; On the contrary, in the most artistic works, there is still the false idea that one needs to have "special" artistic skills, but, for me, this is not the case. To be well trained in artistic work - I mean hairstyles and updos - what is required is to have a good technique for long hair. If you only have art, you depend too much on the muses, but if you add technique to your artistic side, then there are no limits to creativity.
This year is the 30th anniversary of Centro Beta. What are the plans and projects for the immediate future?
For this anniversary, we wanted to prepare a great party, as we did 5 years ago, on the 25th anniversary, but Covid arrived and changed our plans. Despite this, we have not suspended the celebration, we have only postponed it until the pandemic allows us to do it, because 30 years is a memorable date and you don't get there every day! We plan to have a party, and we want at least one representative from each of our promotions. That would be wonderful!
What role has training played in this difficult year?
Since the confinement, online training has emerged as an alternative to face-to-face training, and it was good because it entertained us a lot and became a window into our profession. It allowed us to cyber socialize and get out of the routine; I think it had an almost therapeutic effect. But, when returning to the face-to-face training, with all the biosafety measures and with lower capacity, I have been aware that virtuality, in our field, does not engage. It's still understood as an alternative when there is no other remedy. I won't refuse it, and I know the cyber world has come to stay, but I prefer face-to-face.
I think we are at the best time to train, to grow, to work on new projects, because we have more time. The sector, in general, has less productive activity, so if we prepare well, when we return to true normality and the virus is under control, we can take on the world.
How do you see the professional development of women in the sector? Do you think it has improved a lot? Or, on the contrary, do you think that there's still a lot to be done.
There are always things to improve. If we look at the national associations, except for Club Figaro, almost all people in relevant positions are men. Regarding the notoriety achieved through awards, collections and media presence, I think that women are still a minority, but not because they make it difficult for us, but because society is still unfair to us and thinks that the education of children and housework should remain in female hands. Fortunately, something is changing, but there's also a lot to be done.
Of course, there is a glass ceiling in society, but in the world of hairdressing I don't see it so clearly, and if there were, we would be partly responsible. I say this because women represent just over 90% of the sector.
What I do think is that there are personal decisions and different ways of approaching the profession. I am sure that those who aim to grow and position themselves will achieve it. For many others, managing their job or business well and reconciling their social and family life is true success. Of course it is!
Spanish hairdressers are being recognized in international competitions. What is your vision of the creative sector in our country? What do you think it is due to?
We have a great creative level! You just have to look at the large number of Spaniards who are finalists in international competitions. In this country there is enthusiasm, energy, desire, creative vision and the ability to produce collections and carry them out successfully. I think this effort has much more merit because we do it after daily work and with tight budgets, most of the time.
You know the sector very well. Do you think the vision of Spanish hairdressing in our country is the same as it is abroad? Are you creating a school?
I am convinced that Spanish hairdressing is highly valued outside our borders. Many foreign hairdressers and hairdressers admire the collections of our country that, with increasing frequency, appear in the international professional press or in the selection of finalists for the most prestigious awards in the world. It's clear to me: among my 10 favorite hairdressers, 7 are Spanish. This says it all.
---
We present you her lastest collection: GEODE
Inspiration
With the appearance of rough rocks, the geodes hide within them precious crystalline formations. They can go unnoticed at first glance and to find their true beauty you have to discover their interior. For this reason, these images reflect the surprising combination of the evolution from stone to gemstone, with details that make hair a luxurious, extraordinary object, which emerges before our eyes to marvel us with its vivid tones and its capricious forms as in nature.
Credits:
Hair: Ziortza Zarauza @Centro Beta
Hair Instagram @ziortzazarauza
Photography: David Arnal
Photography Instagram @davidarnalteam
MUA: De María
MUA Instagram @de_maria
Retouching: Javier Villalabeitia
Retouching Instagram @javiervillalabeitia
Products: Montibello
Products Instagram @montibello_peluqueria
---
DOWNLOAD AREA:
Dropbox:
---

Blanca Aranyó PR & Customer Experience, ComunicaHair